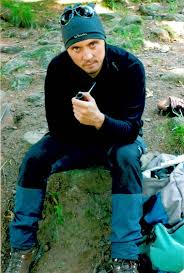 David Pegoraro (Padova-1975) It is a connoisseur of the history of World War II on the European front.
Conscientious objector, lives and works on the Monte Grappa 2004.
Until the 2015 alla Bait Monte Asolone, Val goddess Giara, then in Val Tosella, runs, with his wife Elena, the namesake refuge 1376mt share with museum (of which he is curator) dedicated to the great-grandfathers who fought in 15-18.
local historian Maggiore, Driving guests and tourists on excursions, in Italy and abroad, the discovery of the trenches, workstations and vestiges of the past.
Decorated Black Cross of Austria, the prestigious international award of the Cross of Peoples and of the Maltese Cross.
He published in 2010 the documentary "Asolone 17-18" Natalino Meneghin, in 2012 the book "Montagnard, 10 stories for 10 battles ", in 2013 the fiction book "L 'Angelo del Grappa" as co-author, in 2014 "What remains, Guide to arrest the Grappa battle between autumn and winter 17-18 ", in 2015 the guide "The places of the Great War, Bassano del Grappa, Asiago Plateau, Monte Grappa "with Paul Perini and the story" The Kiss Goodnight "and 2016 the story "The Garden of Lies".
He collaborates with public and private entities such as historical consultant, organizing conferences and exhibitions and conducts educational activities with schools and groups. He launched the "War, Mountains and Men ", for cultural dissemination of issues related to the centenary 14-18.
Davide, in addition to being a historical buff, He greets every day at his home, the Refuge Valtosella, website Val Tosella, locations in Arsiè (Belluno), al km. 38 Road Cadorna, many guests, to whom, together with his wife Elena, It offers a unique to say the least and quite charming.
Start reading some of his writings extracts from his book "What it is left" - editions Museum of the Great War - Baita Monte Asolone: the Battle of Stop, the Battle of the Solstice e The Final Battle.

Phone: